Missouri to restrict gender-affirming care for minors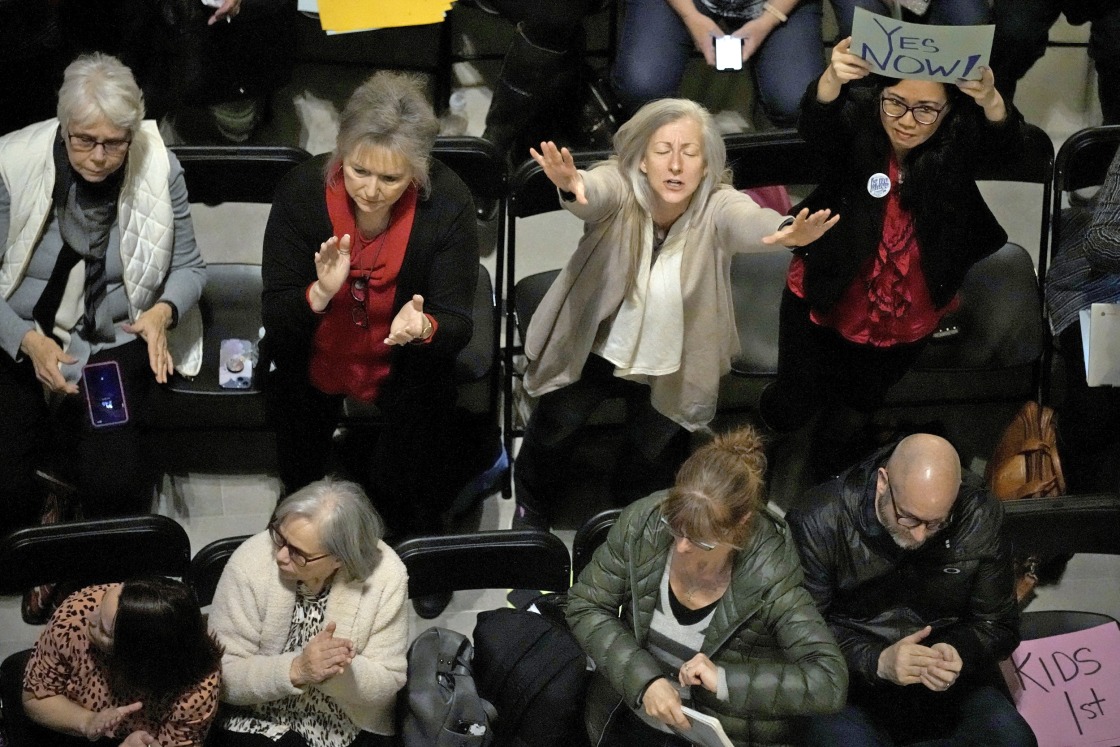 Missouri's Republican attorney General said Monday that he would limit access to gender-affirming treatment for minors. This was in direct opposition to the GOP-led Senate, which is trying to pass a law banning this practice for children.
Hundreds of activists gathered at the Capitol to press lawmakers to pass the bill. Attorney General Andrew Bailey announced plans for an emergency rule.
According to Bailey's office, the rule will require a 18-month wait period, 15-hour-long therapy sessions, and treatment for any mental illnesses. Before Missouri doctors can offer that type of care to transgender children in Missouri, Bailey's office says.
Bailey stated, "I am committed to using every legal instrument at my disposal to stand up and protect children from being the victims of inhumane science experiments."
Bailey stated that the emergency rule requires information to be disclosed about puberty blocking drugs. This includes that they are experimental and not approved by FDA. Bailey also said that the FDA has warned that they can cause brain swelling and blindness.
Although hormones and puberty blocks are not FDA-approved for transgender care and treatment, they can be used "off-label" which is an acceptable and permissible practice.
Bailey is not the only one to speak out on transgender healthcare since January, when he was elected.
Bailey announced in February that he would investigate a St. Louis transgender youth clinic run by Washington University. This was after allegations of abuse made by an ex-employee. Bailey asked Washington University to close the clinic but was refused.
Bailey's spokesperson did not give a copy and did not specify when the new rules on health care would be filed.
Chief diversity officer at the American Psychological Association Maysa Akbar called the rule "a troubling development for transgender youth in Missouri."
Akbar stated that "this emergency order is contrary to the scientific consensus" and said that treatment methods should affirm, not deny, a transgender teen's gender identity. Research shows that discrimination can have adverse effects on the well-being and health of transgender individuals."
Dr. Jack Drescher, section editor of the DSM-5's gender dysphoria chapter, stated that the rule is meant to help children who may regret transitioning.
Drescher stated that transition services are not for all children. "Sacrificing well-being of the former for the presumed benefits to the former is an ethically disturbing intervention by the state into the clinical practice."
PROMO, a Missouri LGBTQ-rights group, called Bailey's ruling an abuse of power. He said that his office did not follow the professional guidelines of any major medical association in the country. They agreed that gender-affirming care is the standard of care for Missourians.
This rule is being made amid a nationwide push to limit transgender health care and drag shows, access to the bathroom, and how LGBTQ topics in schools are discussed.
Erin Reed, a researcher that tracks transgender legislation said Bailey is one of the Republican elected officials in state executive office across the country who are looking for ways to limit gender affirming care when legislators fail to act.
Reed stated that Reed's actions to bypass the legislature and avoid the democratic process are undemocratic. They will also harm Missouri's trans youth.
At the request of Republican Gov., Florida's state medical officials banned transgender children receiving hormones or having surgery to treat gender dysphoria. Ron DeSantis is widely believed to be considering a run for Republican presidential nomination.
Texas was the most advanced state in last year's Republican Governor. Greg Abbott issued a unique order directing child welfare officials to investigate allegations of abuse in children's gender-confirming care.
Monday's rally at the Capitol was attended by a few hundred people. They wanted to push lawmakers to pass a law banning all gender-affirming treatment of children. Others came out in opposition. A diverse lineup of speakers addressed the crowd, including Republican state officials like Secretary of State Jay Ashcroft and Christian leaders. There were also several transgender and gay activists who stated that only adults should have access to gender-affirming care.
Catherine Dreher (vice chair of the Missouri Libertarian Party) stated that her 18-year old son, who has had mental health issues and recently left home, wants to change to a woman. This distresses her. She opposed the practice for minors and called it "child abuse".
The Missouri bill's debate was halted because the Republican sponsor, Sen. Mike Moon (conservative), refused to negotiate with Democrats. Before lawmakers went on their annual spring break, the GOP-led Senate failed to pass any legislation on the subject.
Moon stated that Missouri's children are not up for negotiation in a letter to seven Republican senators. They pledged to take all necessary steps to bring Moon's bill to a vote next week.
This issue could threaten to derail Senate. On Monday, several Republican senators reacted to the attempt by another Republican lawmaker to combine Moon's bill with a ban for transgender girls participating in school girls' sports teams. They feared that the legislation might be unconstitutional.
Senate Democrats indicated that they might filibuster in an effort to encourage compromise. This is a stall tactic which involves senators speaking non-stop.